Hanging On
2008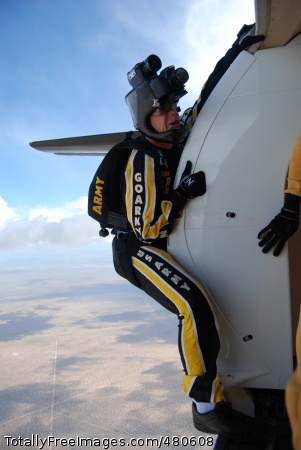 Hanging On
Sgt. Steven Robertson, a demonstration parachutist and videographer with the U.S. Army Golden Knights, clutches the side of the plane in order to film the remaining members of the Gold Team while they jump. ' Photo Credit:
Oct 8, 2008
Source: U.S. Army (2008)
All of these images are completely free and may be used for any purpose, in whole or in part, royalty-free, without the need to give credit to their authors, under the laws of the United States. They come from old books whose copyright has expired in the U.S. (like the 1911 Encyclopedia Britannica) and from U.S. Government web sites.
No copyright. No rights reserved. All images and text are believed to be public domain under the laws of the United States. No warranty nor guarantee is given as to the accuracy of any of this information or imagery, nor for it's suitability for any purpose. Use at your own risk. For more information about copyrights, see our Terms of Use.
(Script last modified Saturday, the 18th of May, 2013 at 10:25am)