Esther Moriba sells fish at her stand in a local market in south
2006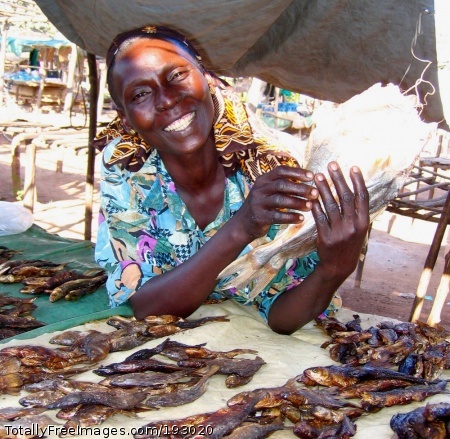 Sudan: Small Steps Improve Lives
Esther Moriba sells fish at her stand in a local market in southern Sudan. She received loans from the Sudan Microfinance Institution (SUMI). In 2003 USAID helped establish SUMI, which offers financial services to small-scale entrepreneurs in southern Sudan, with an emphasis on agriculture, women, returned refugees and internally displaced persons. SUMI performs above international standards and continues to grow. Through borrower groups and salary loans, three branches in southern Sudan had disbursed nearly a half million dollars to more than 1,600 clients by February 2005. SUMI's repayment rate is over 98 percent with a portfolio-at-risk rate of less than 6 percent. Moriba is one of SUMI's first clients. With her first loan of $100, she went to Koboko, Uganda, to buy smoked fish and diversify her stall at the local market. Subsequent loans allowed her to buy a bicycle, allowing her to dispatch someone to buy fish for her.
Sudan
Date: 2006
Photographer: Laura Lartigue / Chemonics
Source: U.S. Agency for International Development (0)
All of these images are completely free and may be used for any purpose, in whole or in part, royalty-free, without the need to give credit to their authors, under the laws of the United States. They come from old books whose copyright has expired in the U.S. (like the 1911 Encyclopedia Britannica) and from U.S. Government web sites.
No copyright. No rights reserved. All images and text are believed to be public domain under the laws of the United States. No warranty nor guarantee is given as to the accuracy of any of this information or imagery, nor for it's suitability for any purpose. Use at your own risk. For more information about copyrights, see our Terms of Use.
(Script last modified Saturday, the 7th of December, 2013 at 3:18pm)