South African Prosecutor Glynnis Breytenbach, far left, shown h
2006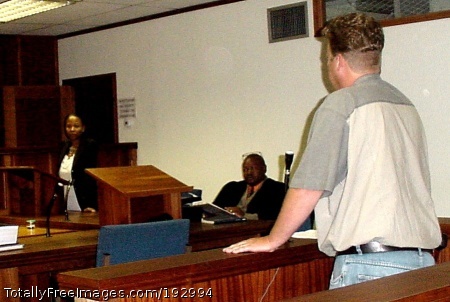 South Africa Fighting White Collar Crime
South African Prosecutor Glynnis Breytenbach, far left, shown here during a court appearance, received training backed by USAID to better fight white-collar crime in the country's courts. In 1999, a Specialized Commercial Crime Court and Prosecuting Unit was established in Pretoria. "The Unit," as it is called, had almost no budget when it opened its doors. Working with an association of South African corporations, USAID stepped in, providing training in trial skills for financial crimes. A computerized case load management system was established to enhance their work. The Unit works as a team with police, investigators, and dedicated magistrates.
South Africa
Date: 2006
Photographer: Unknown / USAID
Source: U.S. Agency for International Development (0)
All of these images are completely free and may be used for any purpose, in whole or in part, royalty-free, without the need to give credit to their authors, under the laws of the United States. They come from old books whose copyright has expired in the U.S. (like the 1911 Encyclopedia Britannica) and from U.S. Government web sites.
No copyright. No rights reserved. All images and text are believed to be public domain under the laws of the United States. No warranty nor guarantee is given as to the accuracy of any of this information or imagery, nor for it's suitability for any purpose. Use at your own risk. For more information about copyrights, see our Terms of Use.
(Script last modified Saturday, the 7th of December, 2013 at 3:18pm)